Stylish Apple Watch Bands
Posted by WSC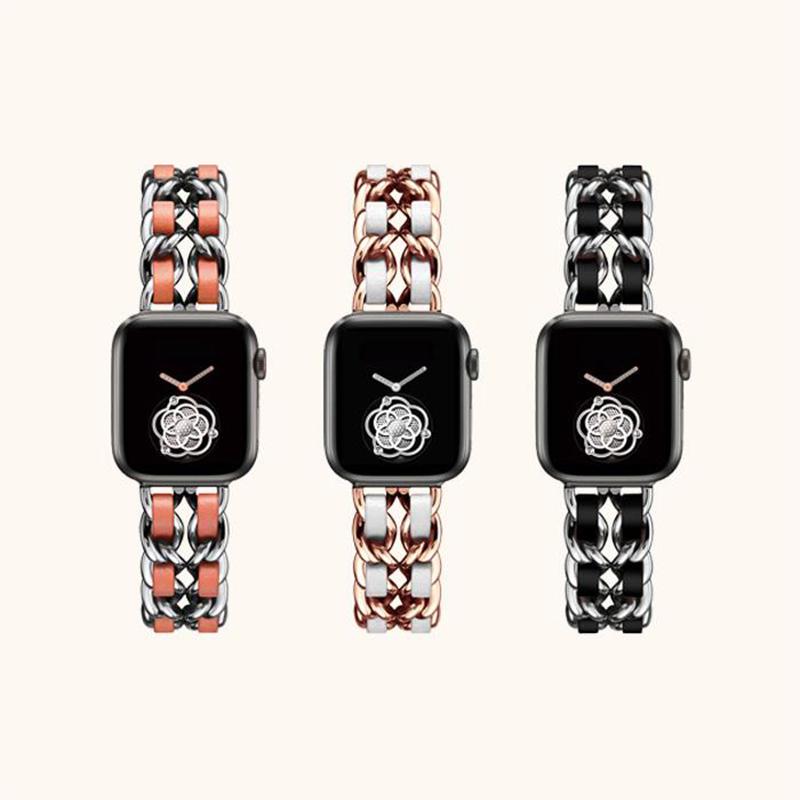 Purchasing an Apple Watch does not need to be limited to the items provided inside the box. Just like a phone, you can buy accessories for it. In case you have not heard yet, one of the most commonly bought accessory for the Apple Watch is a watch band.
The reason why Apple Watch bands are a hot item online is because you can creatively customize the watch to go with your fashion taste at a reasonable price. In addition, just like a bracelet, carefully selecting an Apple Watch band is a fashion statement that you can use to match to your wardrobe.
The kind of watch band that you have will also show off your personality to those around you. For example, people who are not the sporty type may find that the original Apple Watch band won't blend with their taste. Therefore, purchasing a separate watch band is the solution.
WeSellCases is currently selling Apple Watch bands that fit a variety of styles, personalities and lifestyles. Whether you are attending a casual, semi-casual or formal event, we have the perfect Apple Watch band to suit the occasion.
For women who are looking for a formal look while wearing their Apple Watch, the premium chain and leather Apple Watch band is a simple yet elegant choice. The combination of leather that links the chains together gives off an intricate look that is pleasing to the eye.
You can see that a lot of thought was put into creating this Apple Watch band as the material includes real leather. The leather in this Apple Watch band gives a premium and sophisticated feeling to its user.
In addition, you don't have to worry about this Apple Watch band weighing down the Apple Watch. It is designed to be lightweight and comfortable.
You might be wondering whether this premium chain band is prone to damage over time. Well, the good news is that this watch band made of leather and steel is water resistant.
It also comes in six different color variations so that you can select the perfect color combination. The available colors for the chain are silver, yellow gold and rose gold. On the other hand, you can select black, white and pink for the leather.
If you prefer the look of a regular watch, this Premium Chain Apple Watch band will make your Apple Watch look like a classic watch. Moving away from the face of the Apple Watch, this watch band has circular links, providing a soft and feminine impression. Then, it transitions to the classic rectangular links seen on everyday watches as you approach the lock at the back. The combination of the circular and rectangular links gives this watch a semi-formal look as the circular chains soften the look of the edgy rectangular links.
Over time, this watch is durable because it is made of top-grade stainless steel. It won't tarnish,  and it will last you a long time. You also don't need to worry about wearing this watch band in the rain because it is water-resistant.
There are four available colors for this Apple Watch band: rose gold, yellow gold, silver and black. The color choice will depend entirely on your style preference, but as a recommendation the rose gold color will give you a youthful vibe. But if you are more on the formal side, the yellow gold or black color is an excellent choice. For a more casual and everyday look, the silver color will give you a softer look.
Looking for an Apple Watch band that will give your Apple Watch a compact look? The rectangular premium link band is an excellent selection.
There are two kinds of compact chain links for this watch band available in the WeSellCases online store; one-link and three-link, both made of top-grade stainless steel.
If you are having trouble deciding which link style to buy, the three-link chain band is your best choice for a more intricate look. However, for a compact and simpler look, the one-link chain band is your best bet.
There are four available colors for this Apple Watch band if you choose the one link style: black, rose gold, yellow gold and silver. However, for the three-link style, there are more color selections. There are solid colors: black, rose gold, yellow gold, silvers. But if you prefer a combination of colors, there is also silver with rose gold, yellow gold with silver and black with silver.
For a more delicate look, this premium rhinestone Apple Watch band will give you the look of femininity and elegance in one. As you move away from the face of the watch, two curving lines intersect each other. The way they meet is smooth like an s-shape or infinity sign. Even more, there are some rhinestones on top which will give you a subtle look that is not overbearing.
Moving away from the s-shape, the watch band transitions to rectangular links that are thin and not too wide. This design makes the watch perfect for those who want a simple look that won't overpower their outfit. Also, because of its sleek and lightweight design, you can go through your day smoothly without even noticing that you have a watch on the entire time.
The watch band is resizable so that you get that perfect fit around your wrist. You also don't need any tools to adjust the size of the watch band. There are convenient folding clasps that you can pry open using just your fingertips.
You are welcome to come and visit the WeSellCases online store. This band is available in four attractive colors: yellow gold, rose gold, black and silver.
If you're the type who prefers a more outgoing yet feminine look, try out this stylish bling chain Apple Watch band. This watch band is engraved with swirling designs and has rhinestones encrusted along with the engraving. The links of the watch band are simple because they are all rectangular in shape. The rectangular cut of the links allows the person looking at the watch to focus mainly on the design and the rhinestones.
The material used to craft this watch band is top-grade stainless steel. So, no need to worry about it fading or tarnishing after a couple of months. It is a very durable watch that is easy to clean and maintain.
You can also wear this watch band to any occasion since it has a semi-formal look to it. Whether you decide to wear it on a daily basis or to a special occasion, this watch band will complement your outfit and make you stand out. If interested in purchasing this watch band, you can select amongst four colors: gold, black, silver and pink.
Apple Watch Bands for All Occasions
The watch bands that we sell at WeSellCases are made to fit all occasions. This is because their designs are not purely formal nor purely casual. They combine both styles, creating either a semi-formal or semi-casual look. With this fact in mind, you can wear the watch bands with your Apple Watch to any occasion, whether it be a business meeting or a night out with friends.
The price of these watch bands is within an affordable range, and you are guaranteed a quality purchase. This is because the material that these watch bands are made of are of top-grade stainless steel. They won't tarnish nor change color easily, which is a major concern for those purchasing watch bands. In addition, these watch bands are highly durable and are available in an array of colors. Collection 2019 Sale 70% Off Title for image